Do I really need to dig up my sewer or water line?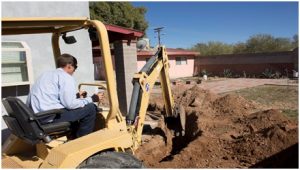 No one ever wants to wake up in the morning to a large and growing pool of water (or worse sewage) in their yard. Unfortunately, if you are reading this article, chances are you have dealt with or are dealing with a similar situation right now. To remedy this common yet hapless situation, most people pull up Google and search for a local plumbing company with good reviews and hope for the best.
The plumbers will come out and depending on the situation either use a sewer camera to perform a video inspection on the line, use leak location equipment to find the leak, or best case scenario, write up a free estimate based on what they see. This is commonly either to replace or repair the line. What is suggested depends on the extent of the damage observed and the condition of the existing pipe outside of the damaged area. Upon receiving the estimate, a conscientious owner may want to do some further research in order to make sure that the amount of money they are about to spend is justified and reasonable. In this post I will briefly highlight the two most common reasons for repairing or replacing sewer and water lines.
In my experience, the most common cause of a water or sewer leak is wear and tear due time. Older houses will often have degraded lines ran in iron, clay, or galvanized pipe that once it has one leak, will often have more. A good way to go about fixing these leaks is to first attempt a spot repair, but if the line is in very poor condition, it can be difficult to find existing good pipe to finish the repair. At this point, new line may be necessary. Often I see seemingly simple repairs turn into long jobs because foot after foot of pipe is literally falling apart in the plumber's hand.
Severe root intrusions are the second most common cause for line breaks I have come across. If there is a single root intrusion then a spot repair is often suggested, but if there is multiple then the plumber may suggest running a new line instead of digging in multiple areas. This is common near large trees or other large vegetation. It is important to note however that just because your line is backed up due to roots, it does not mean that you need a new line. This can often be fixed with a maintenance plan. I am speaking here about roots that have caused leaks.
Joe, Dispatcher