Residential Repairs & Drain Cleaning in Tucson
We take every job seriously, no matter what is involved. We strive to make sure every customer is satisfied with our work. Our plumbers have combined decades of experience diagnosing and working on residential plumbing and drain issues. In addition to normal drain cleaning, plumbing repairs, water heaters repairs, and gas work. We can also do video inspections for home inspections.
Drain Cleaning
Drain cleaning is one of the most common plumbing problems for homes around the U.S. Each year, approximately 14 to 15 million drains clog, this contributes to the stress level of frustrated homeowners. Forgetting to clean your drain can sometimes contribute to periodic backups that can cause flooding and damange in the residence and sewer ordor problems.
Professional Plumbing Sewer and Drain Company Recommends – Drain Cleaning.
Some of the leading causes of clogs include: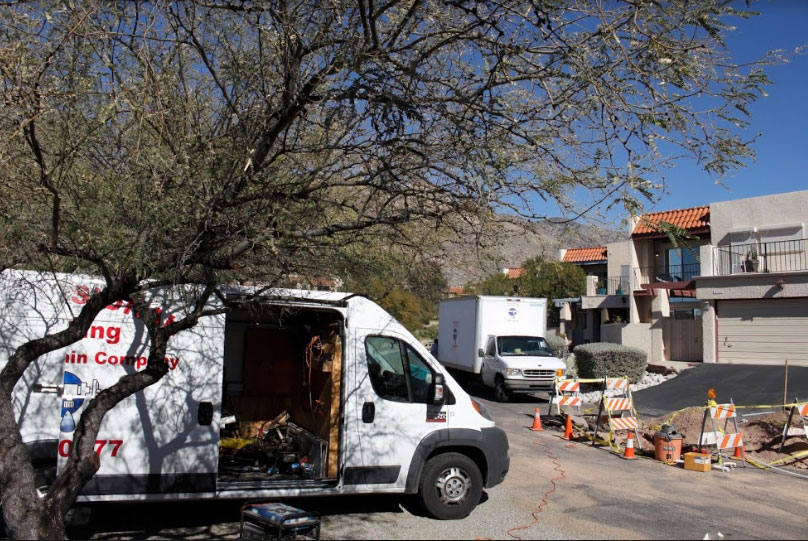 Roots
Soap
Hair
Food waste
Toilet paper
Mineral build-up
An unmaintained draining system will cause clogs and will slow the proper operation of your sewer system. A clogged drain will accumulate grime and debris that might corrode your pipes that will ultimately cause leaks. When drains are clogged, it will also cause flooding that will entail long hours of manually clearing the water out and getting rid of the mess, and cause a lot of trouble, time, money, and effort to get fixed.  These problems can definitely be avoided by calling on Professional Plumbing Sewer & Drain Company to maintain and clear your drains.
Well-maintained drainage systems will avoid such build ups to keep it working well and ensure that water goes and stays where it should be.  Professional Plumbing Sewer & Drain Company can help you not only if you need actual repairs, but also in setting up a schedule for regularly checking your drains.  We will do all the work for you to relieve you of the worry and saving you the trouble of what a clogged drain might cause you if left unattended.
Call Professional Plumbing Sewer & Drain Company for your sewer system repair and maintenance needs. You can always be assured of the highest quality and fastest plumbing service to solve your problems and save you time and money. Cleaning your drains is one of the most important factors to consider in the overall maintenance of your home and should be done periodically. Professional service from the experts is the only way to go for quick, proper, and effective results.
Contact Professional Plumbing Sewer & Drain Company and we'll make your plumbing problem go away!