Sewer or Drain Back-Up – Why Is Water Coming Out From Here When I Use X?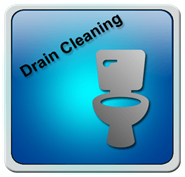 Have you ever wondered why water filled up in your kitchen sink when you ran your laundry machine? Why your bathroom tub, sink, and toilet won't drain? Or, if you have two bathrooms, one is backed up and the other isn't? Well that has to do do with how your sewer lines are connected within your house and to the larger city maintained sewer lines. After this blog you should have an understanding of the problem and how it is fixed because you shouldn't have to fear calling a plumber!
There are two types of water lines in your house, one group, commonly referred to as the water lines that bring water in and distribute it throughout the house to the kitchen, bathroom(s), water heater, etc. The second ground is the sewer lines that take everything back to the large city maintained sewer lines that you have probably seen being installed in large trenched by roads.
Now imagine that these pipes are plumbed in like branches on a tree that will branch off into smaller and smaller twigs. That is how your plumbing, especially the sewer side, is set up.
So now that you have an understanding of how the lines branch out and come together, it is easy enough to picture how a clog in one branch may affect one bathroom, half the house, or if the clog is in the main sewer line heading out the city's sewer line, the whole house.
So then, how is the problem remedied?
To fix a sewer or drain back-up problem, a plumbing company will come out to your property and run their sewer cable machines. Most companies will have multiple sizes of cable and various fitting (like blades) to attach for different situations.
The plumbers will run the cable from different places depending on where the clog is diagnosed to be at in the branch. This can be the shower, p trap, etc. If the clog is determined to be in the mainline, which is very common, they will attempt to run it from a clean out probably located in your yard. If you do not have a ground level clean out, and they are a company that does this, they will go run the mainline from a vent on your roof.
Note: A "roof shot" is almost always going to cost you substantially more, and the plumber will probably give you an estimate to install a ground level clean-out to avoid this issue in the future. The increase in price is due to the extra time, work, and danger in completing the job in this manner.
Depending on the outcome of the job, other suggestions may be given to you like a sewer line camera, line repair, hydro jetting/line scrubbing, but those will be covered in a future post!
I hope that you found this helpful and that you now understand the plumbing problem you have!
Joe, Dispatcher